Livia Wearable Period Pain Device Review
I've become a bit carried away with all of this alternative period care… and Google noticed! My browser became very period-centric.
I came across a device that claims to stop period pain without the use of drugs! Living with endometriosis, I'm always hoping there will be some magical cure that will appease, if not eliminate, my symptoms. I wanted it to work so very badly.
It was tricky finding reviews of people who had used this device for an extended period of time. Of the few I did find, the verdict seemed 50-50. I was resigned to the fact that each person would respond differently to this this device and that I'd have to try it out for myself. For some it meant going drug free and for others it was just a gimmick.
As I was away from home for a few weeks while Livia had their 25% off Christmas deal I sent them an email asking how long they would keep this offer live. I didn't want to order it and risk not being home to collect the package. In reply, I was provided with a 25% off coupon code that I could use at my convenience!
When I finally went to make the purchase, it was already 20% off with an additional 6 month supply of gel pads included. I added the coupon code for a further 25% off from the sale price! This made me feel a little better about how much I was spending.
What is Livia?
Livia is a wearable device designed to provide relief from period pain. It works by sending electric pulses which stimulate the nerves and trick the body into not feeling the pain.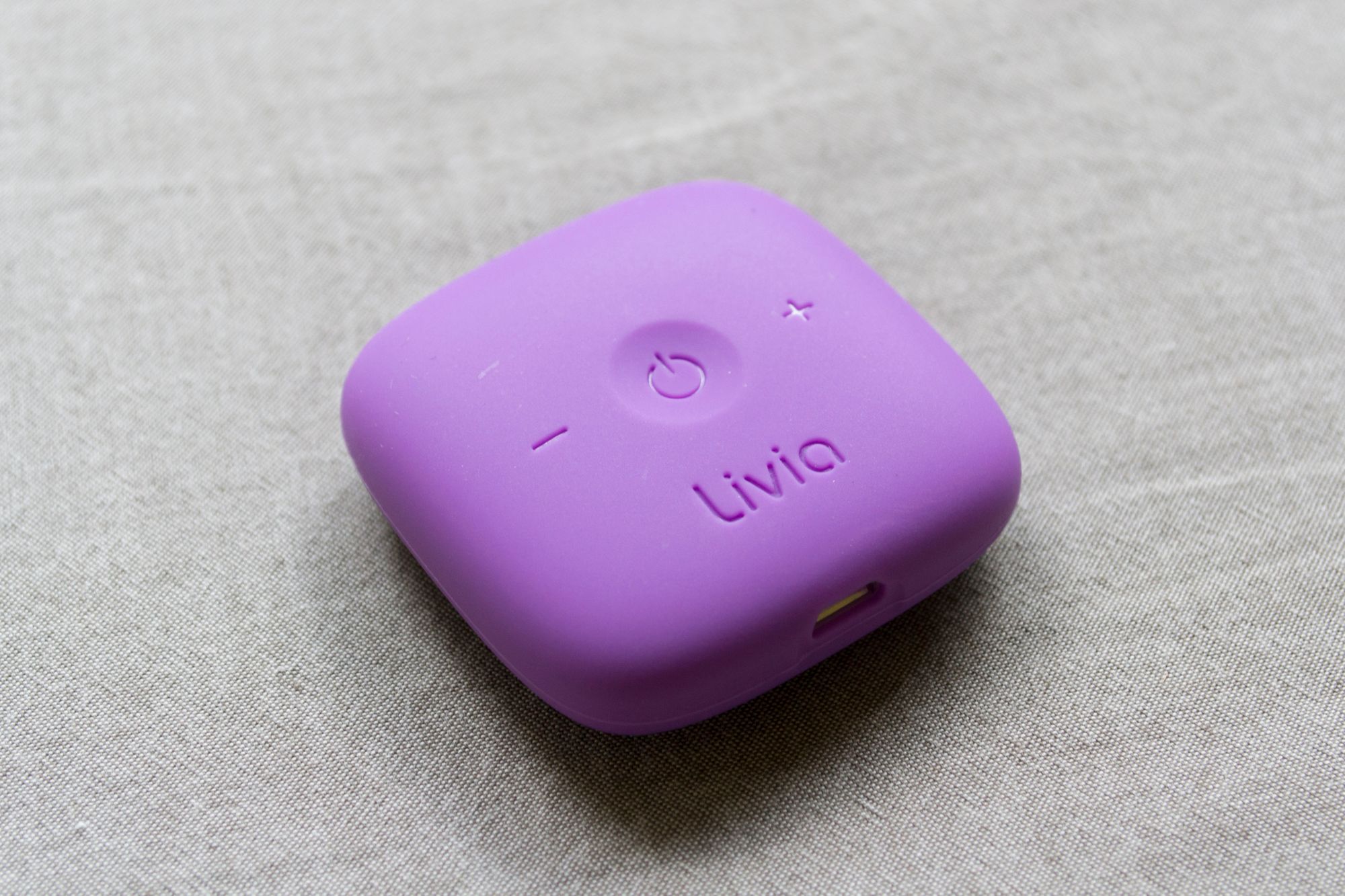 How does it work?
Livia's technology is based on the Gate Control Theory where pulses are transmitted to keep the nerves "busy". Busy nerves mean the nerve-gate is closed, therefore pain signals cannot pass through and are unfelt.
The idea is that the vibration from the device travels faster than pain, and the brain likes the signal it gets first. If you get a vibration signal that will then shut the door to pain.
What's in the box?
Livia device: I chose the purple colour and it measures at 5.5cm x 5.5cm x 2cm in dimension
Travel case: is a white plastic case that has room for the device and the charging cable
USB charging cable: measuring at 50cm in length
Gel pads: the box includes two extra gel pads and the special offer included an additional 6 sets
Flower electrodes: which attach to the device and are 30cm in length
User manual: make sure to hang onto this as it has a lot of useful tips on how to best use the product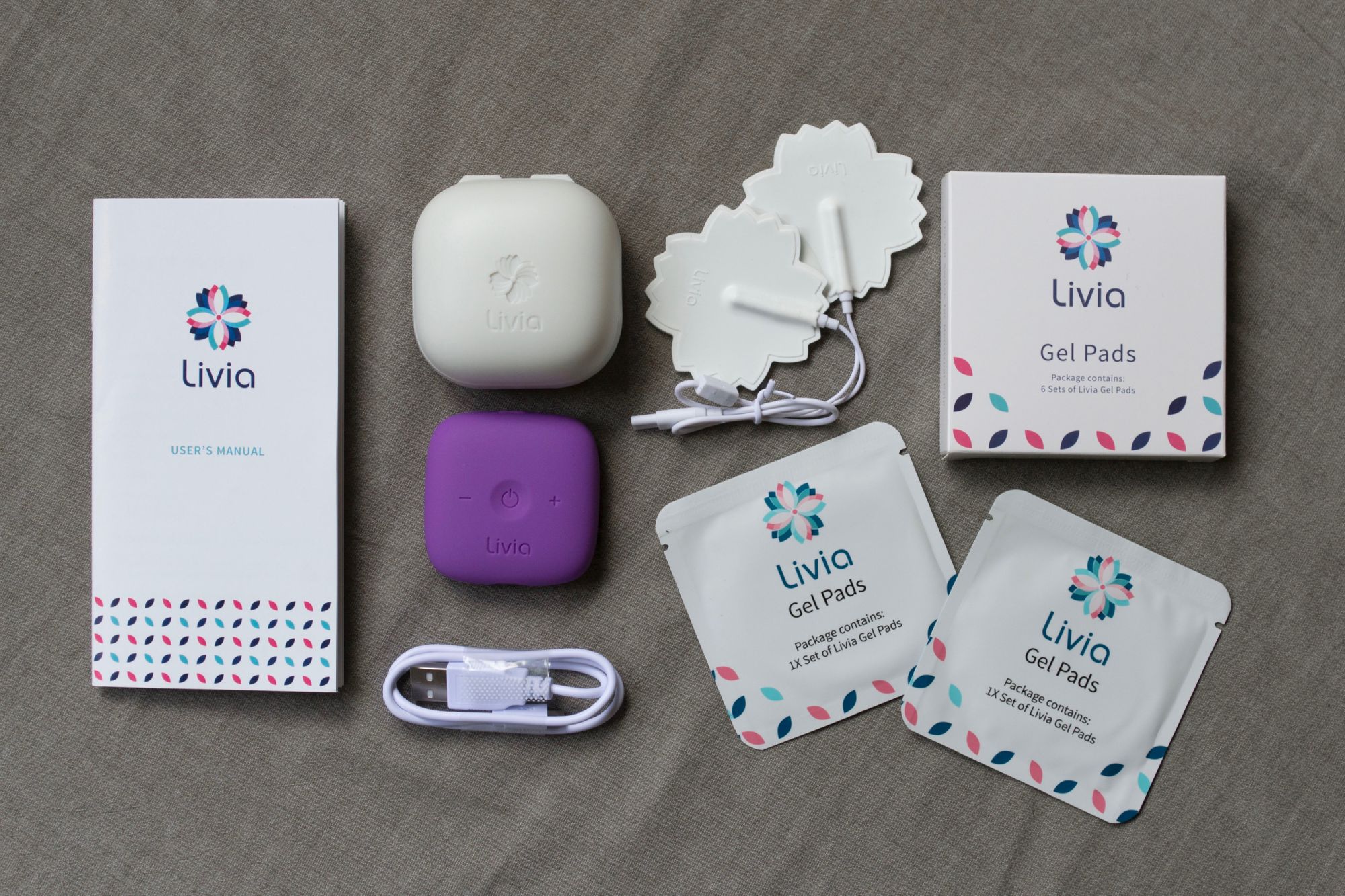 How is it used?
Stick electrodes to your lower abdomen (I like the wires to be pointing upwards). Reposition to find where they work most effectively.
Plug the electrodes to the Livia device.
It will start with the lowest setting, so press the + button to find your ideal level.
Clip it to your waistband, underwear or bra-band. Even if you're wearing looser fitted underwear it will stay just fine!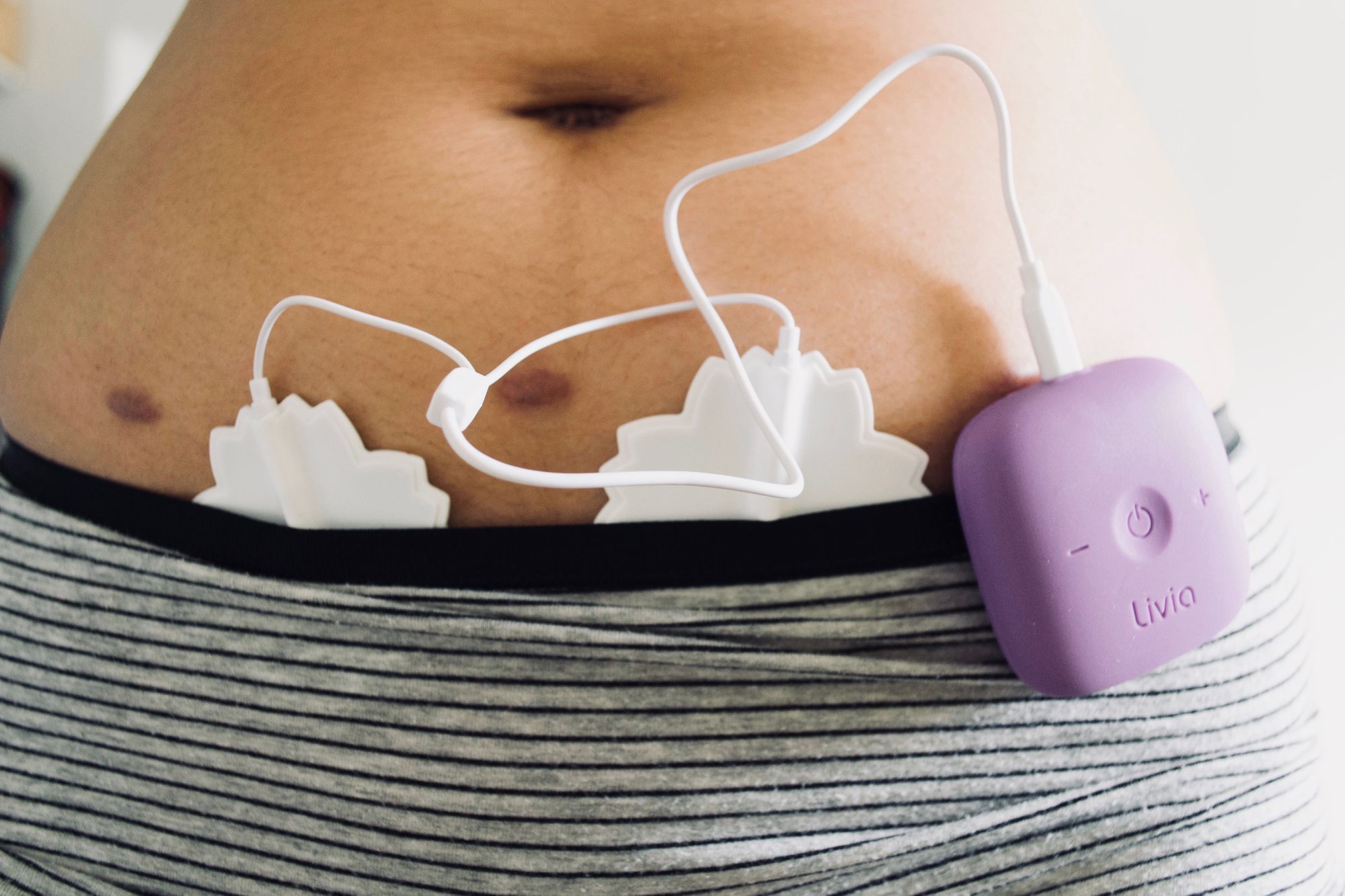 Note: it is recommended not to leave the electrodes on the body for more than 10 hours at a time.
Are there any risks?
Livia states that there are no risks, however, it should not be used if you:
have a pacemaker
are pregnant, in labour, or breastfeeding
are experiencing ovulation pain
are undergoing fertility treatments (they note that it does not have any effect on fertility itself, but shouldn't be used during treatments)
Is Livia just a TENS unit?
"Isn't it just an expensive TENS machine?" is what I've seen on almost all forums. Livia makers have stressed that there are some differences. According to them, Livia operates on a different frequency and wave shape, ensuring it's been developed to focus specifically on menstrual cramps.
I'm no expert but from all the articles I've read, both Livia and TENS seem to use the same principals for pain management. Basically, it's a prettier, feminine, more compact and portable version of a TENS machine… and you'll pay quite a bit for it. This seems to bother some people but for me, if it works, I don't mind at all.
I may do a comparison review of Livia and a TENS machine so stayed tuned.
My Experience
Month 1
Already having pre-charged the device I went ahead and placed the electrodes on my lower abdomen and switched it on. At first I couldn't feel anything until increasing the intensity - it felt a little bit like 'pins and needles'.
As I had no idea about which setting to use, I increased the intensity to the highest setting I could handle. This turned out to be a bad later on. After about 10 minutes, the pain subsided.
At around 4pm the skin where the electrodes were became numb, so I re-positioned the electrodes and it started to work again in relieving pain.
I had used Livia continuously, and by 8pm, the battery ran out. I took two pain killers, popped it back on charge and was ready to use again after about an hour on charge.
At night I only took it off while I had a shower, and on again in bed. Sometime during the night I'd unconsciously taken it off as I woke up without it!
The following day I noticed that the skin where I had placed my electrodes were quite sore and had started to mildly bruise because I had the intensity set too high.
Overall, I was quite impressed with how well it worked! Even though I needed the aid of two pain killers when the battery died, and despite the irritated skin from the electrode, it did significantly decrease the painful cramps.
Month 2
This time around I was much more cautious of increasing the settings too much and aggravating my skin.
After placing the electrodes on I gradually increased the settings until the pain became a dull sensation, but much lower than the previous month! As I kept the settings low, I did feel mild pain throughout the day, but it was nothing like the debilitating pain I usually experience. I was able to get on with my day without the aid of painkillers.
This month I didn't use this device when I went to bed - I just didn't need it! It was one of those rare cycles where my symptoms weren't too severe.
Overall, this second month of testing was much more successful. Learning my lesson from the previous month, I didn't increase the setting too much, which meant that I had a more constant source of pain relief without causing skin/muscle irritation.
Month 3
This was a month from period hell. My cramps began a couple of days before my period even started, but now were especially bad. In the interest of getting a good night's sleep I took two pain killers in anticipation of the blinding pain that usually wakes me up in the early hours of the morning.
Pre-medicating was the right choice. I got up, got dressed, and placed the electrodes on… but I just had a feeling that this was going to be a difficult cycle.
My spidey senses were right. By late morning the pain was so blinding I took off the electrodes, took some pain killers and made myself a hot water bottle. It was particularly bad this month and I abandoned all efforts of trying the device from there.
As most will know, each month does not bring with it identical symptoms, especially with endometriosis. I expected this to happen eventually - since I know how bad it can get - but I wasn't sure how helpful the Livia device would be in combating the really bad pains.
Sadly, after a certain point, it Livia doesn't help. I also suspect my my other endo symptoms hindered in allowing Livia to work optimally.
Showering with Livia
It is not a waterproof device so remove it while you're showering!
Exercising with Livia
It is a very lightweight item so clipping it to the waistband of your tights will be no issue while you're out for a walk, jog or run. However, I don't think the electrodes will stay on for more bendy and stretchy activities such as yoga or pilates. I haven't tried it myself though!
Pros & Cons
Pros
Drug free: this device offers an alternative pain management from drugs.
One-time purchase: you won't need to purchase the product again and should last you a very long time.
Travel friendly: it is compact enough to slip into a toiletries bag and comes with a small case that will fit the device and your charging cable.
Aesthetically pleasing: it is much smaller and nicer than other TENS machines which can be very bulky.
Cons
Exercise: for workouts which involve stretching and bending, the Livia would come off, but for running or jogging it should hold fast.
Pins & needles: the sensation is that of pins & needles which some people dislike.
Skin irritation: this can occur if the settings used are too high.
Battery life: if used without break the battery may not last the whole day.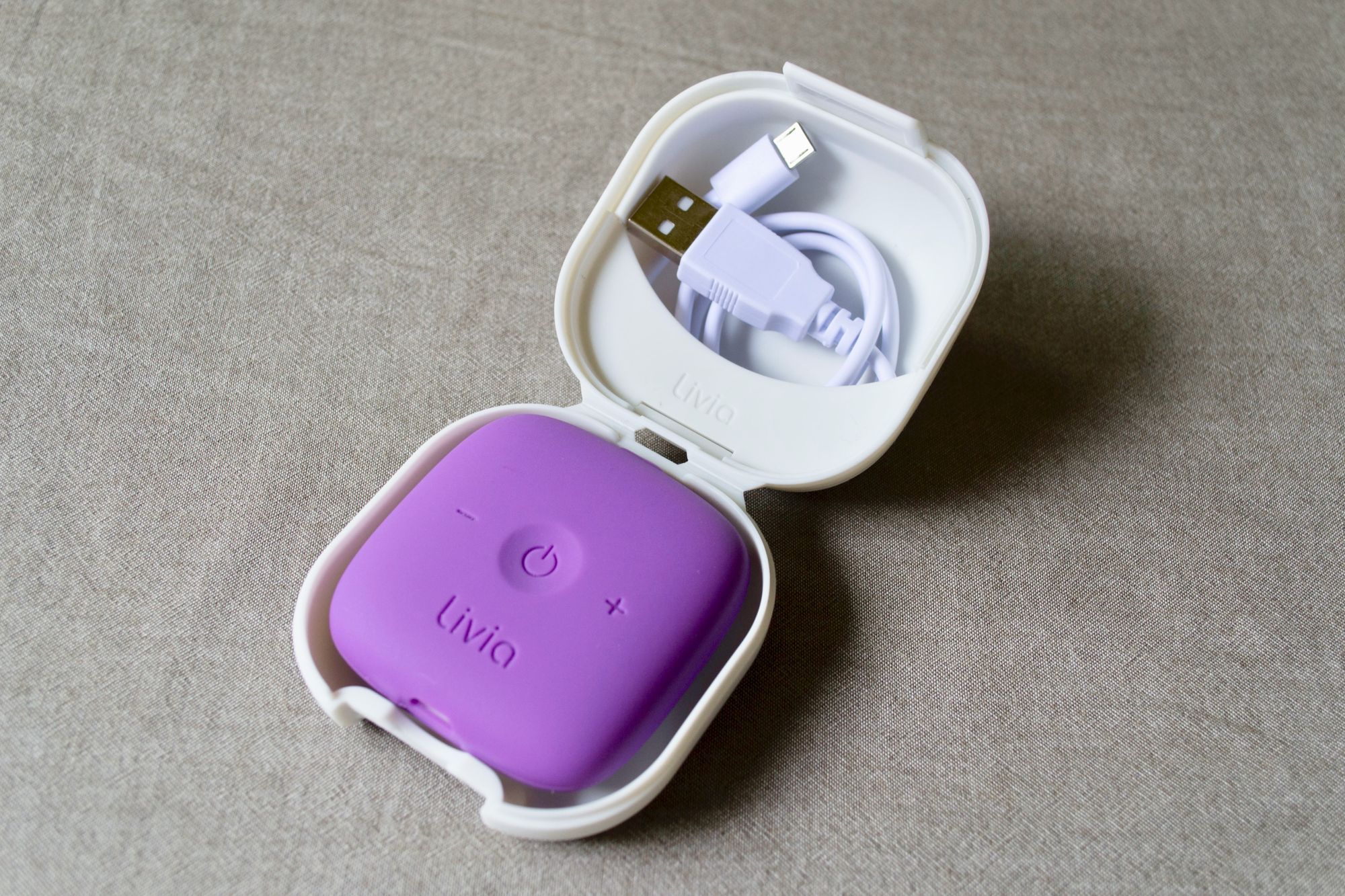 Does Livia really work?
On my first month of trial I was blown away by how well it worked. Sadly, as I was experimenting with the levels of intensity throughout the day, the battery ran out of charge and I had to rely on pain killers to manage my cramps.
The subsequent cycle, unlike the previous month, was an exceptionally bad one, as is common with endometriosis. Everything was super duper painful with all sorts of other symptoms messing up my day. For this reason the I didn't persist with the Livia and gave up after about an hour into the day.
For those with symptoms like mine, where some months their symptoms are easier to bear than others, there is a good chance that it will significantly reduce the amount of drugs required for pain management, but is unlikely to completely replace pain killers.
This device has surprised me on how well it works during 'average' months but not as effective against more severe symptoms.
To know for sure, I'd recommend taking advantage of the 60-day trial, as well as the coupon code below, and testing it yourself.
Coupon code
25Livia for 25% off